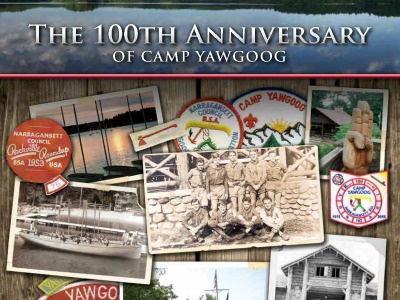 2016: The Centennial Year: "Come and Celebrate Yawgoog"
Join us as we celebrate this outstanding milestone, the 100th Anniversary of Camp Yawgoog. From the first 250 Scouts who camped at the old Palmer homestead in 1916, to the thousands of Scouts who travel from across the country each year, Yawgoog has inspired hundreds of thousands of young men in it's first 100 years. Yawgoog truly is A Scout Adventureland, Forever.
In 2016, the second year of our celebration, our theme is "Come and Celebrate Yawgoog" and the culmination of our celebrations will be the homecoming weekend July 29-31, 2016 which you wont want to miss. Check back at this space often to see all of the events and memorabilia we will have available.
100th Anniversary Memorial Walkway
Learn how you can support Yawgoog and be recognized with an engraved brick on the Donald North Court. Click here for more info.
100th Anniversary Merchandise
Select 100th Anniversary Merchandise is available to purchase online. Click here to view the online store.
100th Anniversary Book
As part of our celebrations we will be producing a 100th Anniversary Yearbook. We are gathering photos of Yawgoog from throughout the years. If you have identifiable photos of Yawgoog (that is - you can tell they were taken at Yawgoog) we would love to see them and possible include them in the book!Send your photos in electronic form, and any questions to info@narragansettbsa.org.
Upcoming Events