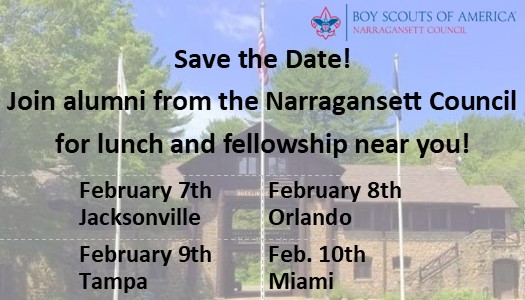 Save the Date! During the week of February 6-10, 2023, the Narragansett Council, Boy Scouts of America will be visiting with our friends and alumni throughout Florida.
If you are an alumnus of Scouting from Rhode Island, Southeastern Massachusetts, Pawcatuck, CT or one of our Camps (Yawgoog, Norse, or Cachalot) we invite you to join us when we visit for one of four luncheons throughout the state of Florida.
February 7, 2023 at Aqua Grill in Point Vedra Beach (Jacksonville area)
February 8, 2023 at the Country Club of Orlando
February 9, 2023 at the Tampa University Club
February 10, 2023 at TBD in the Miami area
You are welcome to join us at whichever date and location is best for you. You can RSVP at this link: https://forms.office.com/r/9RyiYH6jMV
or by contacting Erin Shilling: erin.shilling@scouting.org or (401) 868-1734.